At our Future of Influence Summit conference last year Sharyn Smith of Australian word of mouth agency Soup was one of the key local experts to speak. Given that Australian companies have been a fair bit slower than the US to take up broad word of mouth initiatives, it's good to see what Soup are doing.
Soup has just released research on word of mouth in Australia they commissioned from the dominant US firm researching the space, Keller Fay.
Apparently Australians have 67.8 branded conversations each week, of which almost two-thirds are positive. Below are the headline results with a few quick comments
Top brand for overall word of mouth (both positive and negative)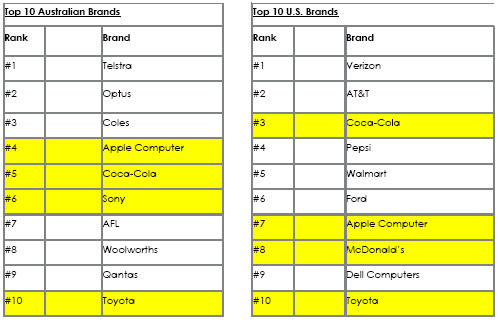 Source: Soup
Brands with the highest positive word of mouth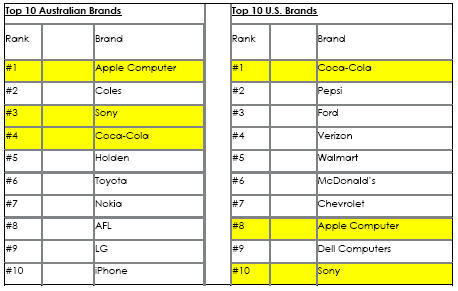 Source: Soup
Some headline takeaways:
* Virtually all of the most talked-about brands are telecoms, supermarkets, consumer technology, drinks/ food and auto.
* Apple is the #1 positive brand in Australia, with iPhone also #10, against Apple ranking #8 in the US.
* AFL (Australian Football League for the uninitiated) is the only sport on the list.
* Drinks (i.e. Coca-Cola and Pepsi) are a lot more central to conversation in the US than in Australia.
* The top two in total word of mouth in each market are telecoms firms, but only one (Verizon) ranks in the top 10 for positive conversations.
The release from Soup also notes that influencers twice the amount of conversations and 74% larger social networks than the general public, and rely more heavily on word of mouth than others.
https://rossdawson.com/wp-content/uploads/2016/07/rdawson_1500x500_rgb-300x100.png
0
0
Ross Dawson
https://rossdawson.com/wp-content/uploads/2016/07/rdawson_1500x500_rgb-300x100.png
Ross Dawson
2010-07-12 22:55:49
2010-07-12 22:55:49
Word of mouth in Australia vs US - Apple is a stronger brand Down Under