A little while ago I co-authored a White Paper for SAP titled Service Delivery Innovation: Creating Client Value and Enhancing Profitability, focused on large professional services organisations.
Later today I'm running a strategy workshop for a large technology vendor with a significant professional services arm. In the course of preparing for the session I looked back at this paper. While I would probably frame my views somewhat differently now, I thought the section of driving forces was worth sharing.
DRIVING FORCES
Faced with increasingly sophisticated clients, market globalization, and evolving technology, professional services firms must evaluate their business models to ensure they can delivery the greatest value to every client on every project. If firms continue to do business as usual, they will face eroding margins, increased operational complexity and risk, and underleveraged partnerships. Let's take a moment to look at each of the five fundamental driving forces at work in the professional services marketplace today before we explore how firms can proactively address these trends.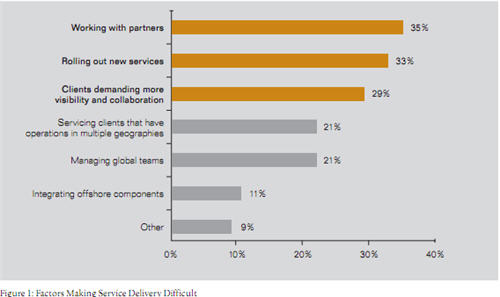 Source: Service Delivery Innovation SAP White Paper

Increasingly sophisticated clients
As more ex-consultants work in industry, clients become increasingly discerning and thus routinely expect firms to offer highly seasoned consultants. They also demand greater visibility into engagement pricing and structure. In addition, clients increasingly focus on outcomes and demand more choices—both in terms of services and providers—at lower costs.
Intense competition
In addition to satisfying discerning clients, professional services firms must deal with increased competition from a variety of sources. The availability of online information, the pace at which the competition copies innovative ideas, and industry convergence resulting in a steady and relentless increase in the number and types of competitive forces a professional services firm faces. For example, online service providers are making certain services, such as X, obsolete. In addition, offshore firms are gaining market share with lower labor costs. Finally, product firms are marketing their manufacturing or product expertise to those seeking process efficiencies, creating new competitors for professional services firms.
Market globalization
Competition is not only intense, it is global. As national boundaries become irrelevant to global business, suppliers, clients, information, and ideas flow easily across borders. Professional services firms are finding themselves largely location-independent. No one region is the single source for the right labor mix, latest technology, or management innovation. Clients expect their services partners to provide support around the world and source from the locations that provide the greatest expertise—and best value. Firms must be able to deliver both custom and packaged services globally, yet have each project configured for the local market. Fulfilling this demand requires extraordinary operational and staffing flexibility.
Evolving technology architecture
Further squeezing the market, custom software, packaged applications, and software as a service (SaaS) are now available to solve business problems once addressed with labor-based services. One important technology transformation involves the construction of information architecture. With the emergence of web services and Service Oriented Architecture (SOA), applications are being broken down into smaller components, each of which can interface seamlessly with other components. More and more information services, technologies, and business applications can be distributed across computers and organizations. Some are even publicly available for free on the Internet, limiting the need for certain external professional services.
Emergence of modularization
Like software applications, business processes are also swiftly becoming modular or componentized—broken down into small elements that can be combined and recombined as needed. Companies can choose to locate these modules inside or outside the enterprise, knowing they can easily integrate with other critical business activities or be reconfigured as needs change. The rapid and continued modularization of business means that companies must focus on and invest in only those world-class processes that create a competitive advantage.
As all five of these market forces converge, it becomes increasingly difficult for professional services firms to differentiate based on the products and services that they provide. Additionally, these firms are discovering that their competitors copy many of their services or that the client's procurement department is comparing every proposal to competing offers in minute detail. Even as price pressures squeeze margins, sophisticated, global clients are demanding that professional services firms deliver standardized elements at the lowest cost and provide differentiated service in the most cost-effective manner possible. The message is clear: professional services firms must either constantly innovate to deliver the differentiated products and services clients demand at the lowest cost or risk being swallowed by competitive forces.
https://rossdawson.com/wp-content/uploads/2016/07/rdawson_1500x500_rgb-300x100.png
0
0
Ross Dawson
https://rossdawson.com/wp-content/uploads/2016/07/rdawson_1500x500_rgb-300x100.png
Ross Dawson
2011-05-09 20:51:56
2011-05-09 20:51:56
5 Driving Forces of Global Professional Services