Micro-messaging processing company Semiocast has just released research showing that Asia has overtaken North America as the biggest user of Twitter, with 37% of total tweets.
Source: Semiocast
In June 2009 the US still accounted for 55% of tweets, in February 2010 statistics showed that half of tweets were in languages other than English, and by April 2010 US tweets accounted for 37% of tweets. The rise of "international" (as Americans describe the planet excluding USA) and corresponding decline of the US share is shown in the chart below. Today's study shows that US tweets have in the three months since then fallen to just 25% of the total. This is not because the US is slowing, it is because the rest of the world and particularly Asia is taking up Twitter at an enormous pace.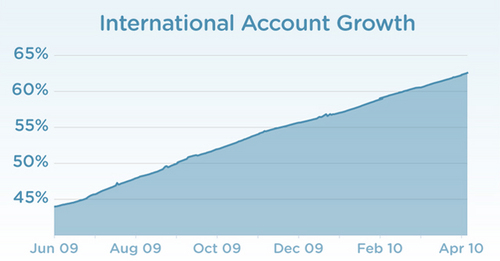 Source: Twitter
By country, US is still the largest single country, with Japan already accounting for 18% of tweets, Indonesia 12%, and Brazil 11%.
This research doesn't quite tally with the global Social Internet study I featured earlier this week, which showed that China and India are the countries where micro-blogging is the most popular, but Japan is more focused on small social networks.
The variety of methodologies of these global comparisons mean that we have to keep track of a variety of different studies and measures, but the insights are invaluable.
Having lived and worked across a number of Asian countries, it does not surprise me that micro-blogging is big in the region. However it is a major coup for Twitter that it is becoming the dominant platform in populous countries such as Japan and Indonesia. Watch this space closely!
https://rossdawson.com/wp-content/uploads/2016/07/rdawson_1500x500_rgb-300x100.png
0
0
Ross Dawson
https://rossdawson.com/wp-content/uploads/2016/07/rdawson_1500x500_rgb-300x100.png
Ross Dawson
2010-07-02 03:32:21
2010-07-02 03:32:21
Asia is now the #1 and fastest growing region for Twitter; US down to just 25% of total tweets