On February 13 I will speak at Air New Zealand's Social Media Breakfast in Auckland, together with Teddy Goff, Obama's Digital Director, with an expected audience of close to 1,000.
Air New Zealand ran its first Social Media Breakfast in July last year with Randi Zuckerberg as key speaker, with the exceptional success of the event leading the airline to continue the series with the second breakfast next week. While Air New Zealand is the 36th largest airline in the world, it ranks 6th in its social media presence.
In preparing for the event I have been looking at data on New Zealand's usage of social media. I was surprised to find that there is a fair chance that New Zealand has the highest rate of social network usage in the world.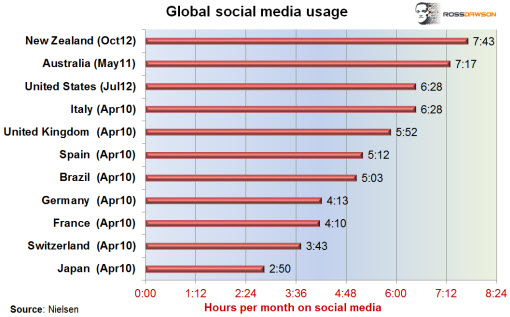 The chart above shows a summary of data from Nielsen on the time spent per month on social networks in a variety of countries around the world.

The differing dates for the data and what that means requires some explanation.
In January 2010 I reported on Nielsen's first public study on global social network usage, which showed Australia as #1 in the world in time spent on social networks. Subsequent data from April 2010 showed increased usage and the same relative position of the countries.
Since then there has been no global comparative data released by Nielsen that I am aware of. However in its Social Media Q3 2011 Report Nielsen stated that Australia was still #1 in social media usage across the countries it covered, with an average usage of 7 hours 17 minutes per month. This figure was in fact 2 minutes DOWN from the statistics from over one year earlier.
Recently Nielsen released social media usage statistics for the US for July 2012, showing average time on social networks of 6 hours 28 minutes. This was also 7 minutes DOWN from the figures from April 2010.
In short, it is pretty clear that in countries where social media usage penetration is high such as US and Australia, time spent on social networks is not increasing and may be decreasing.
This is not highly surprising, as there are of course limits to how much time we can spend on social media, and it looks like we may have reached them. However the breadth of social media penetration is continuing to increase even in developed countries.
The other interesting data point is that in December Nielsen released data showing that online New Zealanders average 7 hours 43 minutes per month on social networks, far ahead of the US and considerably ahead of what was previously the world leader, Australia, where social media usage appears to be flat.
I am just looking at the publicly available data, so it is not clear whether Nielsen started covering New Zealand more recently or it came from behind to overtake Australia as having the highest usage of social media. Just as Australia caught up from a very slow start in uptake of social media, I suspect that the same has happened in New Zealand.
From before the popular rise of social media I was saying that geographically isolated countries such as Australia must have a mentality of connection. For New Zealand, even smaller and more isolated, that applies even more.
It is fantastic that New Zealanders clearly understand and embrace connectivity and the rise of the living networks. It augurs well for the country's social and economic prosperity in years to come.
https://rossdawson.com/wp-content/uploads/2016/07/rdawson_1500x500_rgb-300x100.png
0
0
Ross Dawson
https://rossdawson.com/wp-content/uploads/2016/07/rdawson_1500x500_rgb-300x100.png
Ross Dawson
2013-02-03 11:32:57
2013-02-03 11:32:57
Analysis: US, Australia social network usage flat, New Zealand now the world's biggest user of social networks?