The news industry is undergoing radical transformation. It is also at the forefront of 21st century innovation. The convenience and hype around live video recording, social media, and a variety of new platforms and interfaces are helping ordinary people to become not only consumers of news, but also creators of news. What does this mean for the future of the news industry?
Leading futurist Ross Dawson gave some important insights on "Creating the Future of News" in his opening keynote to the 2015 International News Media Association (INMA) World Congress. Despite the challenges facing traditional printed news, Dawson pointed to our increasing demand for information. "Humans have an insatiable appetite for news and media, and that will continue to grow," Dawson told the New York congress attendees. "News is exceptionally important for the future of individuals, for the future of companies, and for the future of humanity."
Here are eight key insights into the future of news, drawn from Dawson's talk at the INMA congress.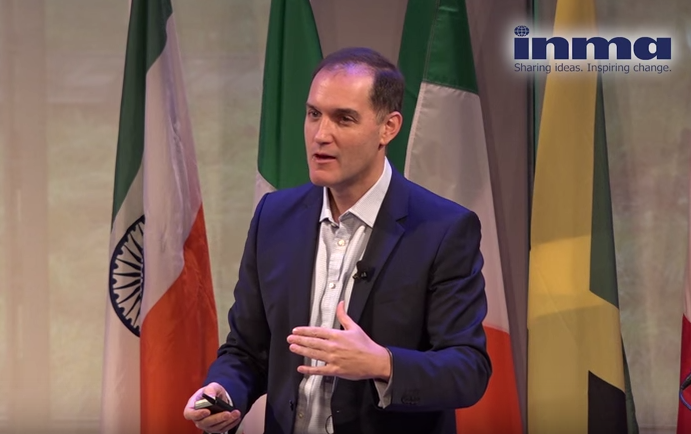 1. Every organization needs to develop their media capabilities
We all thrive on the flow of news. The relationships between organizations and their customers are no exception. Today, "every organization is a media company," Dawson observed. Consequently, organizations across diverse industries need to harness media capabilities. This involves creating an environment in which media skills can be developed and readily tapped. In fact, in the 21st century, most media is created for—and created by—everyone. The popularity of Twitter, Instagram, Reddit, and many other platforms is turning individuals into news creators in widespread contexts.
2. News must be immediate, direct, and relevant
The decline of print media is becoming a hard fact in many parts of the world. Dawson is well known for his Newspaper Extinction Timeline that he created in 2010. Although the futurist believes predictions in general are unreliable, he created the Timeline to "wake up" people who were falling behind in the world of modern media.
The reality is, most people now expect news to be instantaneous. Recording functions on devices such as mobile phones and tablets mean that anything anywhere can be recorded and become part of the news. Open source intelligence is changing the news landscape as never before. As a result, timeliness and direct reporting are ever more important.
Relevance is also key. Technology is making it easier to customize news for audiences and individuals. Dawson showed how the social value of news flows into the industry value of news, with direct implications for the revenue of news organizations.
3. Boundaries are there to be transcended
Organizations must push the traditional boundaries of media if they are to survive in the competitive 21st century climate. In his keynote Dawson quoted Professor James Carse, the author of the influential book Finite and Infinite Games, saying: "Finite players play within boundaries; infinite players play with boundaries."
Dawson told the INMA audience that "[the concept of] journalism is a boundary which we need to transcend." He cited recent developments in automated journalism as an example of this transcendence.
4. Engaging people's senses and emotions is key
Visualization will be increasingly important to the future of news, as will interactive user experiences. Infographics, moving 3D charts and multi-format news are already on the rise. Media labs are now using emotion sensors to detect people's reactions to interactive media. The proliferation of interfaces from smartphones to wearables to virtual reality is seeing new experiences such as Facebook's immersive Oculus Rift headset, Microsoft's HoloLens holographic computer, and Magic Leap's 3D computer-generated imagery.
Applying new user experiences to create interactive news media has significant potential. As Dawson noted, the total global crowdfunding raised for film, theater and music was 100 times greater than the amount for stand-alone journalistic pursuits. This suggests the value people place on exciting, immersive experiences.
5. Organizations need intelligent platform strategies
The flow of news into the future will require platform expansion in order to create the multi-channel news and multi-party interactions appreciated by consumers. Consequently, organizations will need to build a structured method to understand how platforms develop relative to each other. Game theory can be applied to examine the trade-offs and contingencies of choosing particular platforms.
Another solution news organizations could consider is building their own platforms. With the right tools and expertise, this can create unique and compelling offers to attract users.
6. Inviting active participation reaps rewards
Nowadays, we are no longer mere recipients of media. We are participating in media. In some countries, people already spend more time on social media than on accessing formal news sources. News is mobile, and over the next five years, three billion more people will have access to smartphones and the Internet. In this context, news organizations need to consider the many benefits of inviting users to participate in news creation.
News organizations must understand that relying on their media professionals alone will no longer be sufficient. According to Dawson, successful companies will harness the power of crowds and automation to add value to their products and services. In his book Getting Results from Crowds, the futurist listed 12 applications of crowdsourcing in news, from iReport for reporting to Storify for story compilation to Cell Journalist (now ScribbleLive) for video. Dawson believes that organizations who pay their contributors—including the crowd—will attract a greater proportion of talented people than their competitors.
7. Aggregation is critical to entice subscribers
It seems logical that people are more likely to buy a subscription to a news source if it brings together most of the news that interests them. News aggregation is therefore critical to collating the types of individual, local, national and global news that appeal to an organization's target audience. Furthermore, subscriber memberships will need to evolve to make members feel part of a community, with shared values.
8. Value creation flows between individuals, communities, and ecosystems
"True community is connection," Dawson told the INMA audience. In line with this mantra, many newspapers aim to bring their readers together. Some, like The Guardian, even extend this to creating their own dating websites. Regardless of the method, the fact remains that in an open world, value creation occurs most beyond the organization, across ecosystems. The news organizations of the future will not simply create value for their participants, they will encourage them to create value in their own ecosystems. This cycle is crucial to the flow of innovation that media companies can mobilize to create an exciting and adaptive future.
https://rossdawson.com/wp-content/uploads/2016/07/rdawson_1500x500_rgb-300x100.png
0
0
Vanessa Cartwright
https://rossdawson.com/wp-content/uploads/2016/07/rdawson_1500x500_rgb-300x100.png
Vanessa Cartwright
2015-09-30 04:00:20
2017-03-02 01:48:24
8 key insights into the Future of News: Making media relevant to a 21st century audience