Yesterday I completed co-presenting the three-part Ketchum webinar series on Tapping the Power of Mobile. The feedback was excellent, with record audiences of Ketchum clients and staff for the series. Here is an overview of the content we covered over the three webinars.
The final session was on Where Mobile is Going, which looked at the mobile industry landscape, as well as the implications of emerging technologies such as 4G and LTE, next generation augmented reality, NFC and mobile payments, new interfaces such as video glasses and pico projectors, mobile sensors, and far more.
I began by looking at the mobile operating system landscape, showing the forecasts recently made by Gartner, as below.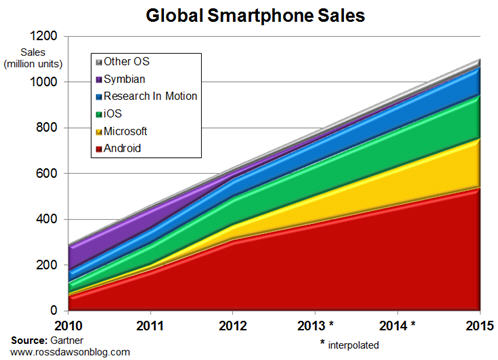 When the figures came out a few weeks ago I provided some initial thoughts on the risks to those mobile forecasts.
I would not make the same forecasts for a number of reasons, however Gartner's figures are a reasonable stab at what mobile operating system shares might be. Given that starting point, here are a few summary notes on the critical uncertainties that could make these predictions wrong, from what I covered in the Tapping the Power of Mobile webinar.


UNCERTAINTIES: ANDROID
* Planned merger of smartphone and tablet versions of Android ("Ice Cream Sandwich"?)
* Impact of version fragmentation and incompatibility issues, including apps not running on all versions of Android
* Impact of security issues



UNCERTAINTIES: APPLE
* Whether Apple releases low-end iPhone
* Shift of app developers to Android and other platforms
* The impact of constraints from a closed system on developers and users
* The rise of alternative music, video, and other content distribution platforms



UNCERTAINTIES: WINDOWS PHONE 7
* Whether Nokia quickly, successfully, and fully transitions to Windows Phone 7
* App developer enthusiasm for the Windows Phone platform
* Microsoft's ability to release mobile OS updates frequently and smoothly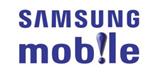 UNCERTAINTIES: SAMSUNG
* Samsung effectively using its market power to get low-end Bada operating system into emerging markets
* Growth of Bada app market
* Successfully leverages its R&D and chip manufacturing to provide unique mobile capabilities



UNCERTAINTIES: BLACKBERRY
* Success of the launch of its new QNX operating system, and patience of its customers until it is available on phones
* The success of its large investment in its PlayBook tablet
* Blackberry's ability to gain market share in other countries as it loses ground in its dominant U.S. and U.K. markets



UNCERTAINTIES: OTHER
* The rise of independent hardware manufacturers could create new winners
* Linux Mobile OS (in addition to Android and Bada) should not be discounted as key competitors
* Battles on key patents such as touchscreen technologies could shift the landscape

Clearly these are just some of the most prominent uncertainties. What we can absolutely say is that this will be a highly unpredictable space, in what could be one of the highest value-creating industries in the world. Major twists and turns are likely to come monthly or even weekly. This will be a very exciting space to watch and be involved in.
https://rossdawson.com/wp-content/uploads/2016/07/rdawson_1500x500_rgb-300x100.png
0
0
Ross Dawson
https://rossdawson.com/wp-content/uploads/2016/07/rdawson_1500x500_rgb-300x100.png
Ross Dawson
2011-05-05 10:58:46
2011-05-05 10:58:46
6 uncertainties that will shape the future of mobile operating systems