It wasn't long ago that one of the most solid and unquestioned assumptions of enterprise software was that users sat at a desk in front of a desktop (or sometimes laptop) computer. As such, maintaining a fleet of almost exclusively Windows-based computers was sometimes a larger task than selecting, developing, and running the enterprise software on which work was performed.
The rise of tablet computing, still less than a year now from when the iPad first become available, may significantly change that scenario. Morgan Stanley has just released the results of a survey showing that 51% of CIOs of large organizations expect to be buying tablets for their staff within a year, with another 16% expecting to support staff using their own tablets on the company's network.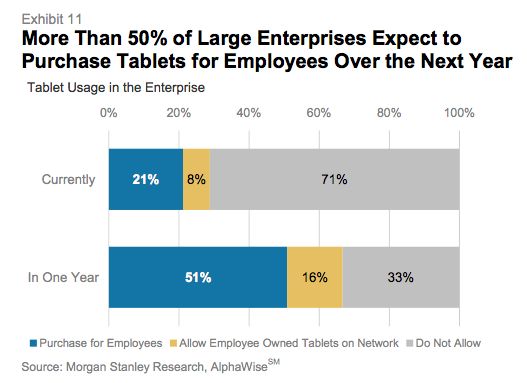 Source: Digital Daily, Morgan Stanley

An additional data point comes from the activations of Good Technology software (an enterprise mobility platform), which have always been predominantly on iOS platforms, but which are now close to one third on iPad.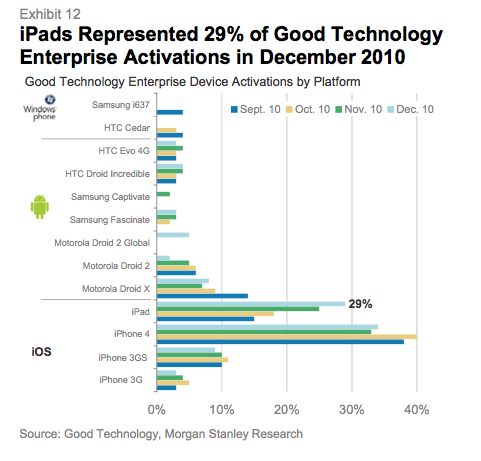 Source: Digital Daily, Morgan Stanley
The same report provided perhaps the most bullish forecasts yet for tablet sales, suggesting as a base case that 200 million tablets will be sold within two years from now. It also reported that while just 11% of US consumers expressed "extreme interest in purchasing a tablet in the next 12 months," the figure was substantially higher across Western European consumers and a massive 41% in China, averaging 21% outside the US.
The demand for tablets in the enterprise is coming from two sides: from workers who love their tablets and the flexibility they give them in their work, and from organizations who see the ready marrying of useability for enterprise applications with portability. From sales staff in the field to frequent travellers and staff seeking work flexibility, the applications are evident.
All of which suggests that a different approach to enterprise software and interfaces is required. I wrote last week about how Tibbr is using a multi-platform interface to facilitate access to the full suite of enterprise applications and activities. There is definitely scope for more of these aggregated interfaces to enterprise software to facilitate mobile and flexible work.
Beyond the new interfaces and aggregators, enterprise software vendors will need to be sure that their mobile interfaces (not just for iPads, but also Android, Palm, and potentially other tablets) are as good as their desktop equivalents. As Loic Le Meur of Seesmic bemoaned recently, the plethora of platforms is a nightmare for developers, now for enterprise software vendors just as much as for those in the consumer space.
https://rossdawson.com/wp-content/uploads/2016/07/rdawson_1500x500_rgb-300x100.png
0
0
Ross Dawson
https://rossdawson.com/wp-content/uploads/2016/07/rdawson_1500x500_rgb-300x100.png
Ross Dawson
2011-02-16 02:08:54
2011-02-16 02:08:54
Will tablets take over enterprise work? More than half of large companies say yes