This evening I was at SAP's Asia-Pacific Japan 25th Anniversary Leadership Summit in Singapore, which brought together a small group of leaders of SAP's major customers in the region for an exclusive dinner at the Shangri-La hotel.
The guest speakers were myself, speaking on How Hyperconnectivity Will Fuel Asia's Growth, and Stacey Allaster, President of the Women's Tennis Association.
Stacey, together with WTA founder Billie-Jean King and last year's Wimbledon winner Marion Bortoli, fielded questions about this week's announcement that the WTA is allowing in-game coaching using real-time data from the match.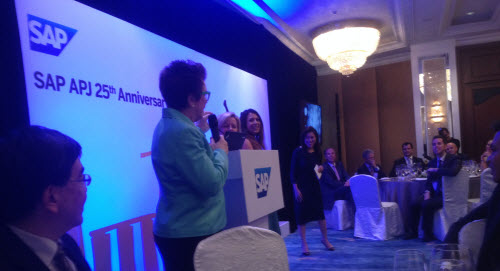 Billie-Jean King, Women's Tennis Association President Stacey Allaster, and Marion Bartoli at the SAP APJ Leadership summit in Singapore

Historically coaches have not been allowed to communicate with tennis players during games. However WTA broke that tradition a number of years ago, enabling coaches to work with their players during the course of a game.
However yesterday the WTA announced that:
"Coaches will now be able to use a range of authorised Android, iOS and other smartphone and tablet devices in order to tap into match data, using an application that SAP claims will be "device agnostic"."
Computing further reports that:
"Currently, WTA players and coaches receive post-match point-by-point analysis from SAP that allows them to analyse performances. SAP worked with the WTA in order to identify what information was essential to create an analytics solution using SAP Hana that would benefit all coaches and players."
This evening Bortoli, in response to a question about how useful real-time data analysis would be in the heat of a game, said that she has always been computing and analyzing match data in her head, and that the analysis would be extremely valuable to her in adapting her match strategy. Billie-Jean King also felt that real-time data and analytics would have helped her perform significantly better as a tennis player.
Real-time data feedback is just one domain in which technology is heightening the performance of sportspeople. These are not drugs, but they enhance abilities.
This does mean that part of being a successful sportsperson is interpreting data and being able to effectively respond to it. Coaches are of course critical in enabling that, but it also speaks to individuals' skills.
How will this apply in other sports, such as golf, where players can get data on their swing in the course of a game, soccer, where game-specific weaknesses of opponents can be exploited, or any of a legion of other sports?
As in other domains, such as Advanced Chess, humans supported by machines are proving to be superior. In which case one of the most critical skills for success is being able to use data and analytics well to improve performance.
This may transform the world of sports.
https://rossdawson.com/wp-content/uploads/2016/07/rdawson_1500x500_rgb-300x100.png
0
0
Ross Dawson
https://rossdawson.com/wp-content/uploads/2016/07/rdawson_1500x500_rgb-300x100.png
Ross Dawson
2014-10-24 13:19:23
2014-10-24 13:19:23
Will real-time big data feedback transform sports?