Those who are familiar with my work know that I believe in concept visualization to communicate ideas. In fact I first wrote about the potential of 3D for concept representation and communication 14 years ago, in the late 1990s.
For a while we have been developing specifications and prototypes for what I have been describing as a "3D free-form mind map" that will allow people to create and modify 3 dimensional representations of their thoughts on particular topics, unconstrained by the intrinsic hierarchical structure of a mind map. Users will be able to move around and fly through the 3D "thoughtscapes" they create, and share them with the world in a variety of formats.
I sometimes use the example of my NewsScape, pictured below, as an example of a concept map that anyone would very quickly and easily be able to create in the app.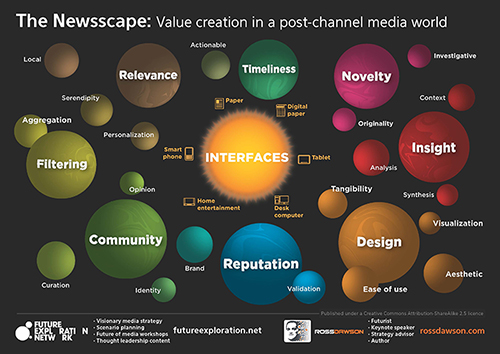 Click on the image to see large version

Almost everyone I have described the idea to likes (or even loves) the concept [del] and after a lot of work laying the foundations for the concept, we are now looking for an artist and developer who can work with us to bring the idea to reality.
The detailed descriptions of the roles can be found on our We're Looking For Talent website:
– 3D Artist/ Designer for 3D mindmapping tool
– Unity iOS developer for 3D mindmapping tool
A few comments on these roles:
* We will initially release this app on iPad, and have chosen Unity as the best platform to realize our vision.
* The artist/ designer role is particularly critical, and I will work closely with the person we choose to help create a stunning look and feel for the app. We are looking for a deep understanding of "concept visualization" and more generally information visualization, which in my experience only rarely appears in 3D portfolios.
* Either role can be done from anywhere in the world, however for the artist role in particular we'd ideally prefer someone in Sydney who we can work closely with, if the right person is available.
* Our resources are constrained, which means we are unlikely to be able to afford as a base pay the usual market rates of the very top 3D talent globally who are used to big game budgets. However we can offer decent pay to attract rising talent, and will also offer a structured profit share (see our team principles) in addition to base pay, which creates at least the potential of exceeding usual market pay rates.
Please do apply if you have the capabilities and this is of interest. Or if you can think of someone who would be perfect, please let them know.
The right people for the project will have a pretty unusual mix of capabilities, including truly thinking in 3D, so we need to tap the networks to see if we can connect with those awesome people out there who can make this concept really fly.
https://rossdawson.com/wp-content/uploads/2016/07/rdawson_1500x500_rgb-300x100.png
0
0
Ross Dawson
https://rossdawson.com/wp-content/uploads/2016/07/rdawson_1500x500_rgb-300x100.png
Ross Dawson
2013-02-25 11:36:59
2013-02-25 11:36:59
We're looking for 3D talent! ...to help create a 3D free-form mind mapping tool