Last week I gave a keynote on Mega Change: Tomorrow is Here at the NASSCOM Global In-House Center Conclave at Pune in India.
Global In-House Centers (GIC) describes offshore service and processing centers that are run and owned by the parent company. While business process and IT services have long been outsourced to offshore service providers, as many firms have chosen to establish their own centers, not least to maintain full control of operations and standards.
It was a fascinating event, bringing together the leaders in the space. GICs in India generate $15.5 billion in revenue and employ over half a million people.
Often GICs provide not low-level processing functions but highly sophisticated functions. Some of the world's largest multi-nationals locate the global cream of their technologists and data scientists in India.
The next phase is for GICs to go beyond cost arbitrage on support to drive innovation and higher-value functions, as shown in this diagram from a recent NASSCOM report on GICs in India.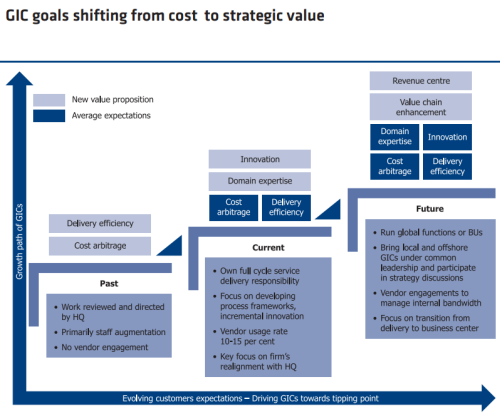 Source: NASSCOM/ Deloitte

This shift is already in place, with 'ownership' of corporate products as distinct from engineering or resources doubling over the last years, and now 10% of products that GICs are working on being in development and before launch.
Global domain expertise inside multi-nationals increasingly resides in GICs, with innovation often a core directive.
The next phase is for the GICs to drive revenue and direct value, through enhanced efficiency, risk mitigation, increased volume, and better pricing.
In addition to my keynote I ran a Masterclass on Creating Better Networked Organizations. This was very well attended, demonstrating the interest in the drivers of innovation in offshore centers.
Expect to see far more value created from offshore centers as the best companies tap the talent and capabilities in these teams.
https://rossdawson.com/wp-content/uploads/2016/07/rdawson_1500x500_rgb-300x100.png
0
0
Ross Dawson
https://rossdawson.com/wp-content/uploads/2016/07/rdawson_1500x500_rgb-300x100.png
Ross Dawson
2014-04-24 12:27:47
2014-04-24 12:27:47
Trend: offshore service centers driving innovation and revenue