Financial services is one of the most industries in which the use of social media is the most relevant, not least because customer service is a critical differentiator between highly commoditized offerings. While financial services and banking were traditionally highly relationship-based, the shift to online has significantly eroded those relationships. Social media, used well, provides an opportunity to build relationships in a world in which most financial services are executed online.
In a global context, Australian banks were fairly slow to adopt the use of social media, however more recently a number have become a lot more active as they recognize its fundamental importance to their future.
Vindaya Senadheera, Prof. Matthew Warren, and Dr. Shona Leitch from Deakin University have done some interesting research in their paper A study on how Australian banks use social media.
To analyze the banks' activity they use the Honeycomb framework of social media which was presented by Kietzmann et al in their paper Social media? Get serious! Understanding the functional building blocks of social media, which points to the key elements of social media engagement as Identity, Groups, Relationships, Presence, Sharing, Conversations, and Reputation.
Here are a few key points from the research
Twitter: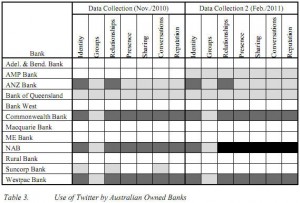 * CBA, NAB, and Westpac are very active on Twitter. CBA and NAB reply more often, but Westpac is using retweet more than any other bank.
* CBA and NAB have recently starting engaging strongly on Facebook, including discussions on sports and natural disasters. While Bank-West has been on Facebook longer than the other banks, it has not engaged in discussions or attracted followers.
* Westpac has 12 Facebook pages for different branches, though fewer followers than the other banks.
* YouTube is the most widely used service, with all banks except Suncorp and AMP with their own YouTube channel. These are often used to give access to videos on Facebook or Twitter. CBA and especially NAB have significantly increased views of their channels and videos recently.
Other points:
* The banks fall into 3 categories; very active (CBA, NAB, Westpac), partly active (ANZ, BOQ, Adelaide & Bendigo, AMP), and inactive (Rural, Suncorp, Members Equity, Bank-West). Smaller banks are strongly behind in their social media presence.
* The report says "only the NAB has aligned its brand across all social media services," pointing to the different handles used by ANZ across services and activities.
* Only CBA promotes its social media presence on its official website.
* Suncorp is using Yammer internally.
The external view of how Australian banks are engaging in social media is definitely interesting, not least in demonstrating a significantly faster pace of uptake by the major banks. See the full paper for more details.
However the internal view is what is driving uptake – or in some cases the lack of activity. In my recent keynote at the Australian Institute of Company Directors annual conference I emphasized idea of governance for transformation. There are clearly challenges and concerns in engaging in social media, as the study also brings out. Banks' risk-averse cultures have in many cases atrophied their ability to take on the uncertainties of social media engagement, even though their future as customer-focused organizations probably significantly depends on doing it well.
The reality is that there is significant resistance inside banks to the use of social media, both in recognizing its value and in understanding the real scope of risks. As such, establishing governance frameworks that enable innovation and experimentation while managing potential risks is now a core competence for banks. A handful of Australian banks are making significant progress on that path, allowing the acceleration of their social media engagement.
Hat tip: @ariegoldshlager
https://rossdawson.com/wp-content/uploads/2016/07/rdawson_1500x500_rgb-300x100.png
0
0
Ross Dawson
https://rossdawson.com/wp-content/uploads/2016/07/rdawson_1500x500_rgb-300x100.png
Ross Dawson
2011-08-21 23:05:28
2011-08-21 23:05:28
Research: The acceleration of Australian banks' use of social media