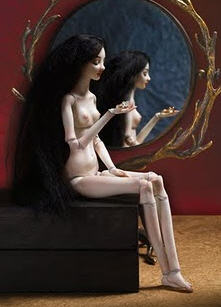 On Saturday I first wrote about how Facebook was warning my wife Victoria Buckley that they may close down the Victoria Buckley Jewellery Facebook page , presumably because it showed a doll's nipples.
On Monday Sydney Morning Herald wrote the story up as Now Facebook bans doll nipples. The headline spent 12 hours at the top of the front page of the Sydney Morning Herald online site, and became the single most read story on the newspaper. Since then it has made news all over the world, in leading newspapers such as London Evening Standard and Der Spiegel, and in countries as far away as Timor and Finland.
In fear of losing her Facebook page with its close to 2,000 fans, Victoria deleted the offending photos and posted them on a new Facebook group 'Save Ophelia – exquisite doll censored by Facebook' to show these beautiful images of the exquisite doll, and to discuss art and what constitutes nudity.
In response Facebook deleted the doll images on the Save Ophelia Facebook group. A short time later they simply shut down the group with its 500 members, with no indication of what remained to offend after the pictures were gone.
Victoria's biggest problem with this is that Facebook is inaccessible and omnipotent in shaping what is a fundamental business tool for her. When she received warnings, they were completely non-specific. Since she had (before deletion of one them) three Facebook pages, when she receives warning they are phrased completely generically, so she has no way of knowing which page they are referring to and what the issue is.
Victoria can't know whether the problem was her calling Facebook 'philistines' on her page, others' comments disparaging Facebook for their actions, or her links to outside media that had used the original images she had on her page.
She has had absolutely no way of responding. She searched for ages to find out how to contact Facebook and work out what to do, but could find no way to get in touch. Facebook is faceless.
Because she cannot risk her company page being shut down, Victoria has now removed links to all of the international media that have covered the story, together with dozens of insightful and encouraging comments from supporters. These leading media organisations have freely used the controversial images, but since thumbnail images from links show up on the Facebook page, this could jeopardize her precious connection to her fans by showing the offending doll images even though she hasn't posted them, and getting shut down as a result.
There are many issues raised here, most obviously in what content is acceptable to be viewed online and whether doll nudity is objectionable, but also in the power Facebook wields arbitrarily and without recourse on the businesses that have grown to depend on them.
Before the arbitrary deletion of Victoria's new Facebook group Paul Wallbank had described the issue in an article based on Victoria's situation titled The perils of social media marketing.
As Paul notes at the close of his article, Fortunately Buckley's across that, she's pointing her Facebook fans to her website telling them: "You can join my independent mailing list at this link, in case they get really stupid and close this group."
https://rossdawson.com/wp-content/uploads/2016/07/rdawson_1500x500_rgb-300x100.png
0
0
Ross Dawson
https://rossdawson.com/wp-content/uploads/2016/07/rdawson_1500x500_rgb-300x100.png
Ross Dawson
2010-07-06 22:02:46
2010-07-06 22:02:46
Nipplegate escalates: A faceless Facebook shuts down protest group and proves it REALLY doesn't like doll nipples