In January I looked at the just-released Nielsen data on global social media usage, and wrote Australians are #1 globally in usage of social media: Why?.
New data from Nielsen shows an updated picture from April 2010, including the proportion of people online in each country who are using social networks.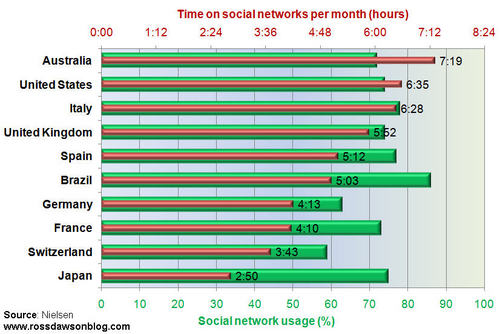 Click on image for large version
While we have to treat the details of the data with caution, it shows Australia, US, Italy and Brazil up around half an hour of usage in the five months from December 2009, with other countries not changing much.
Interestingly, the reach of social networks does not correspond strongly with time spent, with Brazil out in front based on the long-established pervasive role of Orkut in online activity. Italy, Spain, France and Japan have broad reach of social networks, though the shorter time spent on the local Japanese sites such as Ameba (and quite possibly greater access from dedicated mobile apps) mean the total time doesn't match the appetite for social networking of English-speaking countries.
I continue to want to see a broader range of countries included in this survey, including Canada which is by some measures the leader in the use of social media, and Turkey, which has an abiding absorption in social networks.
My reflections on why Australia is #1 are supported by this additional data point, though I haven't found anyone yet who has a compelling case as to how Australia came to the front from being so far behind.
https://rossdawson.com/wp-content/uploads/2016/07/rdawson_1500x500_rgb-300x100.png
0
0
Ross Dawson
https://rossdawson.com/wp-content/uploads/2016/07/rdawson_1500x500_rgb-300x100.png
Ross Dawson
2010-06-15 17:52:33
2010-06-15 17:52:33
Leaders in social networks usage: Australia by time, Brazil by reach