Today we are releasing our next major report, which distils – through unattributed verbatim quotes – what senior executives REALLY think about social networks inside organizations.
Future Exploration Network created the report for IBM, hosting a select group of top executives at a Roundtable discussion, and capturing the key talking points from the conversations.
Download the Executive Insights into Enterprise Social Networking Strategy report.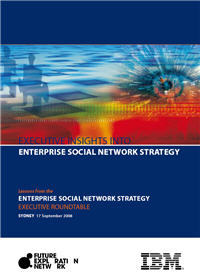 I usually don't put press releases on my blog, but the one we released this morning gives a good summary of the report:
For immediate release: 20 November 2008
Australian senior executives say social networking has "real power" to change business
The majority of large Australian companies are trialing social networks within their organisations and senior executives believe that, rather than being a waste of employee time, there is substantial value to be harvested from connecting with Web 2.0, a report released today says.
The Executive Insights into Enterprise Social Network Strategy report was distilled from candid conversations about the role of social networking in large Australian organizations such as Allens Arthur Robinson, AMP, Aristocrat, Austrade, Challenger Financial Services, Coca-Cola Amatil, and Mirvac Group. Senior executives from these were represented at an Executive Roundtable hosted by global strategy firm Future Exploration Network and technology giant IBM.
"Corporate Australia clearly recognises the value of social networks," says Ross Dawson, chairman of Future Exploration Network, who moderated the Roundtable. "What were once considered toys are quickly becoming central to how organisations drive productivity and become more competitive."
The Executive Insights into Enterprise Social Network Strategy report compiles blind quotes from the senior executives present at the Roundtable, allowing the executives present to express forthright opinions.
"The power of social networks is real," one participant said.
CIOs see social networking as here to stay, and increasingly valuable for recruiting, sourcing suppliers and partners, and maintaining working relationships both internally and externally. And as employee hours increase, it is a good way help with work-life balance.
Quotes from senior Australian executives in the report include:
"Our trial of social networks is going exceptionally well – there is very positive feedback from employees. They see it as a personal touch that improves their enjoyment of the work environment."



"What if I have one of my best performers spending an hour a day on Facebook – do I really want to stop them?"



"We've pretty much taken the view that most people come to work to do a good job."



"The whole organisation is about collaboration. So the area of social networks is really critical for us, particularly if we want to provide a seamless service delivery to the client."



"The credit crunch has been a good thing. In good times it takes organisations a long time to look at new things but in times of difficult business we are more ready to see that we need to consider change. The way we market our products is going to be different."



"For Gen Y, social networking is much more open than traditional computing. Look at gaming. They have a collective mindset – achieving common goals is more important to them. They either win together or they don't win. "



"We don't have a single employee that is not highly computer literate. Everyone is on Facebook."



"We are serious about finding ways to engage people. We have to compete for talent."



"The way products and services are sold in our industry will be vastly different to how it is done today"



"We have an evolving strategy. Fail fast and cheap. We're finding that's the best strategy."
The report can be freely downloaded from:
rossdawsonblog.com/Enterprise_Social_Network_Strategy_Report.pdf
The Enterprise Social Networking Strategy Report has been released in the lead-up to Future Exploration Network's second Enterprise 2.0 Executive Forum, to be held in Sydney on 24 February 2009. The Forum will examine how Web 2.0 technologies, including social networking, can be practically implemented in the workplace.
Details on Enterprise 2.0 Executive Forum: www.futureexploration.net/e2ef09/
*******************************************************************************
Global strategy firm Future Exploration Network helps major organisations to gain insights into the future. It specialises in how technology is changing business and society.

Ross Dawson, chairman of Future Exploration, works globally as a keynote speaker and consultant. He is a bestselling author who anticipated the social networking revolution in his acclaimed 2002 book Living Networks. Dawson has been named as one of the 40 biggest players in Australia's digital age, and his blog Trends in the Living Networks is ranked as one of the top business blogs in the world. Dawson is available to be interviewed on any aspect of Web 2.0, social networks, and the role of new technologies in business and society.

Jessica Hough
Communications Manager
Future Exploration Network
https://rossdawson.com/wp-content/uploads/2016/07/rdawson_1500x500_rgb-300x100.png
0
0
Ross Dawson
https://rossdawson.com/wp-content/uploads/2016/07/rdawson_1500x500_rgb-300x100.png
Ross Dawson
2008-11-19 15:15:15
2008-11-19 15:15:15
Launch of the Enterprise Social Network Strategy report: what senior executives REALLY think about social networks inside the organization