Last weekend I was musing about the elements of success in a connected world. Something clicked, and I was able to pull out of it a visual representation as below. For my keynote tomorrow morning on Building Business in a Connected World I will just run through this diagram together with commentary on how to approach each of the key elements.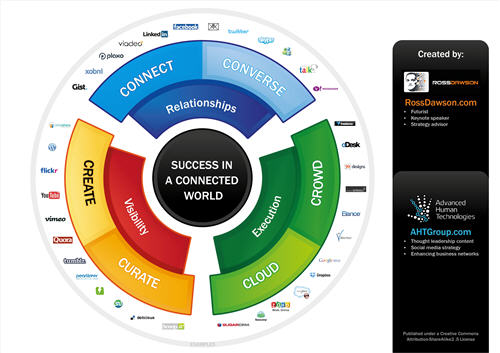 Click on the image for full size
This diagram brings together the foundations of success in a connected world: Relationships, Visibility, and Execution, and how to achieve these.

EXECUTION
Cloud: Using distributed computing as a platform for business
Crowd: Using distributed talent to get work done.
VISIBILITY
Create: Creating useful, relevant content that gets seen by the right audience.
Curate: Selecting useful, relevant content to create value and build an identity and brand.
RELATIONSHIPS
Connect: Establishing and maintaining relationships with people you want to know and work with.
Converse: Engaging in contained and broad conversations to learn and build relationships.
Clearly the 6 elements are not distinct – they are deeply inter-related. However it is useful to segment them in order to build useful strategies for success. We all need to think through what it is we do in each category to build our capabilities.
The services mentioned are examples – of course many more could be mentioned for each category. Indeed some of them are relevant across several categories.
I hope the visual is useful. I'd love to get your feedback.
https://rossdawson.com/wp-content/uploads/2016/07/rdawson_1500x500_rgb-300x100.png
0
0
Ross Dawson
https://rossdawson.com/wp-content/uploads/2016/07/rdawson_1500x500_rgb-300x100.png
Ross Dawson
2011-03-28 20:51:34
2011-03-28 20:51:34
Infographic: Building Success in a Connected World