After a number of requests from friends I signed up for Aardvark recently. If you haven't t come across it, it's a social network for search, where your questions are given to whoever in your extended network is most likely to be able to answer them, as illustrated below.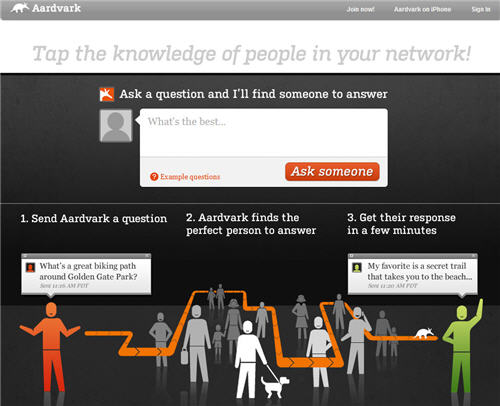 It's an interesting idea which has got a lot of buzz though not a lot of uptake yet. I suspect that this approach to social search is more likely to get traction within an existing social network rather than a dedicated one, though it's possible that it could take off, most likely initially in specific communities.
The nub of how Aardvark works is by using your nominated topics, which can be input either by yourself or others. I entered topics of 'enterprise 2.0' and 'social networks' and others have tagged me with 'business' and 'social media'.
As such I was rather surprised when I received this email from Aardvark:
(Aardvark) Help someone with a question about *adult entertainment business*

Hi Ross,

Briana/20/F/…..,.. just asked a question I think you might be able to answer,

"What's the best way to learn how to be a stripper?"

To answer, just reply to this message, and I'll forward your email along to Briana.
As it happens I don't know the answer. So why did Aardvark think that I might know?
If it's because someone tagged me as an expert on 'business', then the matching algorithm is not very good – being tagged with 'business' doesn't make me an expert on any phrase that ends with the word business, be it adult entertainment business, sewage business, or weight loss business.
However it's possible that Aardvark trawled the web for content that I have written, and noted that I have co-authored an article on 'The Future of Adult Entertainment' (The article is in fact ranked #1 on Google for "future adult entertainment", suggesting great expertise in the topic. In fact this was written as a general futurist rather than a domain specialist so I'm afraid that's not true 🙂 ). This would indicate a far more sophisticated approach, but one which is beyond the scope of what Aardvark say they are doing.
I wonder which one of these methodologies identified me as a potential mentor to young strippers.
https://rossdawson.com/wp-content/uploads/2016/07/rdawson_1500x500_rgb-300x100.png
0
0
Ross Dawson
https://rossdawson.com/wp-content/uploads/2016/07/rdawson_1500x500_rgb-300x100.png
Ross Dawson
2009-10-23 18:13:49
2009-10-23 18:13:49
Why does Aardvark think I know how to learn to be a stripper?