SAP4SME, a diversified social media initiative from SAP to reach the SME market, is generating a variety of interesting content.
At 2pm US Eastern time today SAP is running a webinar: "The Stimulus Package: What Does it Mean for Your Business?" which examines how small to medium enterprise can best tap the US federal stimulus package (see also my earlier note on this).
On the SAP4SME LinkedIn group site there is a survey asking:
"Who do you trust most when making a business software purchasing decision?"
The results are very interesting, with 400-odd respondents, though it may not be a fully representative sample.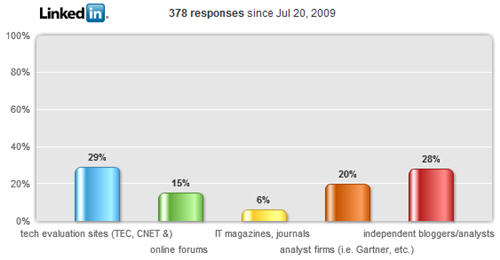 The stand-out most influential sources are the online technology media such as ZDNet, and independent bloggers and analysts, considerably ahead of the major analyst firms.
On the survey page the results can be sliced in several ways, including by job function, which shows some major differences in the sources used.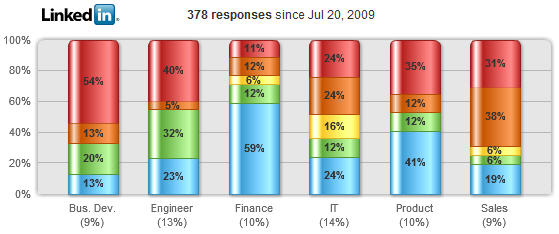 Apparently Business Development and Finance people have very different approaches to decision making.
There have been many similar studies done over the last years, though the results change both by type of company, and also evolve rapidly over time. The results show the rising clout of the new breed of independent analysts relative to the high-cost traditional analyst firms.
As another reference point, three years ago I did a very detailed study of influence networks in technology purchasing, titled How Technology Purchasing Decisions are Really Made. While the details of the sources used for technology purchasing have undoubtedly changed, I expect the networks of people involved in the decision process will have changed very little.
https://rossdawson.com/wp-content/uploads/2016/07/rdawson_1500x500_rgb-300x100.png
0
0
Ross Dawson
https://rossdawson.com/wp-content/uploads/2016/07/rdawson_1500x500_rgb-300x100.png
Ross Dawson
2009-07-29 04:34:34
2009-07-29 04:34:34
Online media and independents drive business software buying