The site rossdawson.com has long been where I point potential clients for my keynote speaking and other personal work. As usual it has taken longer than planned, but we now have just launched an entirely redesigned website.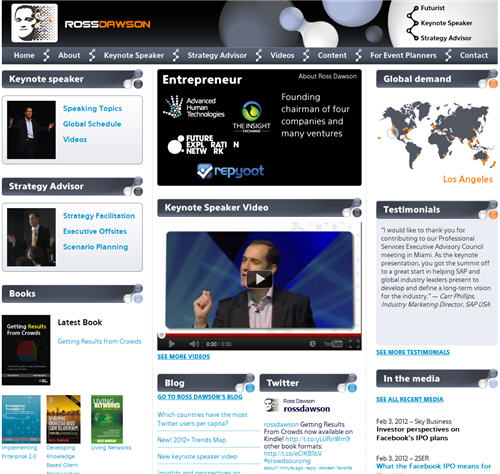 The visual theme of the site has been derived from my personal logo, which depicts me merging with the machine.
The website, as before, includes a collection of speaker videos including my just-launched new keynote speaker video, detail of representative keynote speaking topics, an overview of my work as a strategy advisor, and details for event planners.
A new feature on the website is a collection of many of my visual frameworks, including the most popular ones such as the Newspaper Extinction Timeline, Social Media Strategy Framework, Web 2.0 Framework, Influence Landscape, and Future of Media Strategic Framework.
Each of the frameworks has comments enabled, so I will be hoping to build up some conversation and input into further editions of these frameworks on the site.
We have also recently launched a Ross Dawson content page on Facebook to build some engagement and conversation around the content. If you like it, would love a Like on Facebook for the page. :-)
https://rossdawson.com/wp-content/uploads/2016/07/rdawson_1500x500_rgb-300x100.png
0
0
Ross Dawson
https://rossdawson.com/wp-content/uploads/2016/07/rdawson_1500x500_rgb-300x100.png
Ross Dawson
2012-02-08 12:16:07
2012-02-08 12:16:07
Launch of new keynote speaker website