It is inevitable that news dissemination will become a largely social function. By whatever means, we will be provided with extremely low touch ways of sharing content we think would be interesting to specific people we know. This will then be filtered in various ways by the recipients, however most will value being recommended articles and sites on an individual basis.
Digg, StumbleUpon, del.icio.us, and other tools allow us to recommend content to the world at large. But recommendations are far more valuable if they are specific to the person and context. The best way to disseminate these recommendations is through our social networks, if we happen to spend time there. So social networks can become a platform for the collaborative filtering of content, giving individuals the benefit of their network's judgment and access to information.
In this context, the announcement today by New York Times and LinkedIn of a way of providing custom content and recommendations to their network is a landmark. Over the next few years this integration of social networks and content will rapidly evolve to be a very important part of the landscape.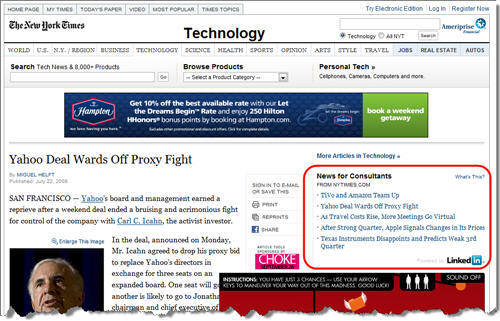 The way the partnership will work is that LinkedIn members will get customized recommended headlines when they go to NYTimes.com, based on the industry they work in. They will then be able to choose to forward articles to selected members of their social network.
As ReadWriteWeb points out in its very good review of the announcement, the this brings together 25 million LinkedIn users and monthy traffic at NYTimes.com of over 17 million. Clearly both parties stand to benefit from this arrangement, as they build users, traffic, and additional value is added to being a LinkedIn user.
Expect this to be the first of a wave of similar announcements. This kind of approach could definitely be used with professional content such as financial or legal information. It could also be implemented inside organizations as a valuable form of collaborative filtering and relevance determination. In the broader media space, if content providers can do deals with social networks to enable platform-level collaborative filtering, they could benefit enormously.
https://rossdawson.com//wp-content/uploads/2016/07/rdawson_1500x500_rgb-300x100.png
0
0
Ross Dawson
https://rossdawson.com//wp-content/uploads/2016/07/rdawson_1500x500_rgb-300x100.png
Ross Dawson
2008-07-22 01:00:20
2008-07-22 01:00:20
How will news and social networks be integrated?