Earlier this week I gave the opening keynote at the Institute of Chartered Accountants/ Centre for Accounting, Governance and Sustainability Thought Leadership Forum in Adelaide.
The day's theme was The Australian Accounting Profession and Asia, with a strong emphasis on education given the participation of most of the heads of accounting departments of Australian universities. As such in opening the event I was asked to speak on the broader theme of "Australia's Engagement with Asia".
In my keynote I started from the broader context of the ancient and modern history of Asia and Australia, looked at current trends including demographic shifts that are shaping our relationship, the most important intersections between our economies and cultures, and finally the leadership required for Australia and Asia to engage more deeply into the future.
In the course of my research for the keynote I looked at changes in Australia's population, and generated the following very interesting chart: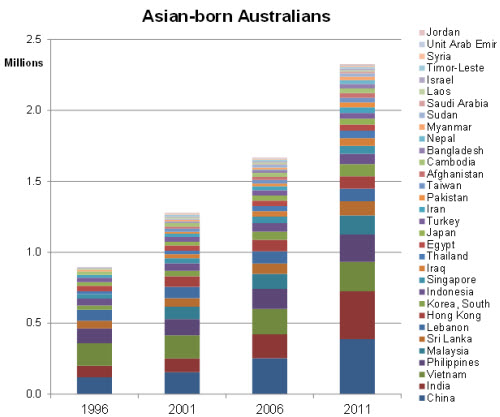 Source: Australian Bureau of Statistics

In 1996 there were just over 800,000 Asian-born Australians, around 4% of the population, while 15 years later in 2011 there were over 2.3 million Australians born in Asia, over 10% of the population. Of course there are many more Australian-born ethnic Asians.
Until fairly recently much of Australian immigration came from UK and Ireland, New Zealand, and Europe. While these countries are still strongly represented, now immigration is coming far from countries such as China, India, and the Philippines, resulting in the massive shift shown in the chart above.
Australia's original colonization by Britain set the fundamental tone for the nation's culture. However as we move into a century in which Asia will move to the center of the global economy, Australia is becoming far more Asian, not least through its population.
There is still a geographic divide between Australia and much of Asia, and the cultural gap remains large. Yet Australia is absolutely in the process of becoming Asian.
https://rossdawson.com/wp-content/uploads/2016/07/rdawson_1500x500_rgb-300x100.png
0
0
Ross Dawson
https://rossdawson.com/wp-content/uploads/2016/07/rdawson_1500x500_rgb-300x100.png
Ross Dawson
2014-02-05 22:32:11
2014-02-05 22:32:11
In the Asian century, Australia is becoming Asian too