Last year in intense frustration I wrote It is totally INSANE that you cannot use an external keyboard on an iPhone. It is absolutely crazy that I have to carry around other devices to be able to touchtype on the move.
With the launch of the iPad with external keyboard capabilities (and large on-screen keyboard) I was getting worried that they weren't going to give the iPhone a keyboard in order to differentiate the devices.
Fortunately Steve Jobs has just announced that iPhone OS4, due out in the Northern summer, will include Bluetooth keyboard capabilities. Again, it is totally insane that it has taken this long – the iPhone has always had Bluetooth, it's just that Apple deliberately crippled the ability to use it for keyboards.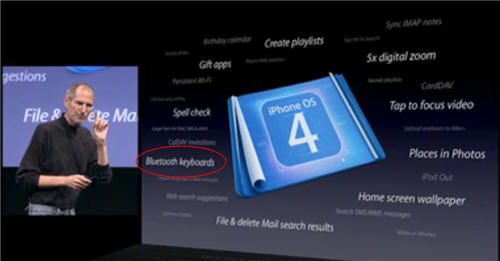 This means I'm likely to continue with iPhone for a little while. The latest Android phones were beginning to look very tempting.
Of course there are some other nice features in OS4, notably multitasking and enhanced camera and video capabilities. But the keyboard is for me the critical one.
https://rossdawson.com/wp-content/uploads/2016/07/rdawson_1500x500_rgb-300x100.png
0
0
Ross Dawson
https://rossdawson.com/wp-content/uploads/2016/07/rdawson_1500x500_rgb-300x100.png
Ross Dawson
2010-04-08 17:25:40
2010-04-08 17:25:40
A belated hooray! iPhone will finally get an external keyboard