Future of PR expert and keynote speaker Ross Dawson


Ross Dawson is recognized as a global leading thinker on the future of PR and communications. He has spoken to and worked with many PR firms and corporate communication departments around the world on the evolution of PR and opportunities for the future.
Keynote/ workshop topic – Creating the Future of PR
Description
We are entering a world in which the flow of information and perceptions are driving an increasing proportion of value creation in our networked global economy. The fundamental capabilities of PR professionals are more relevant than ever, even as we see powerful shifts in the role of media, social expectations, and how clients engage with external professionals. Arguably, PR should be at the center of the marketing universe and building massive prosperity, since it is better able than any other discipline to deal with a world driven by relationships, fueled by connectivity, social, mobile, and power shifting to the individual.
Massive new opportunities are emerging as the marketing landscape shifts, including in applying broad communications capabilities across earned, owned and paid media, co-creating brands with customers, and assisting organizations to transition to the realities of networked communication. Pointed skills and abilities are required to succeed in the new era, including sophisticated data analytics, close collaboration with clients and specialists, and evolved organizational structures. PR professionals and firms need to attract the right talent, actively transform to new business models, and position themselves for the changing landscape. Those that re-conceive their role and potential impact could well be masters of the universe.
Examples
Ross Dawson ran a compact workshop at the global partner offsite of one of the world's largest PR agency groups, exploring the driving forces shaping the future of PR and the key capabilities required for the evolving landscape, and facilitating conversation among the group to agree on a prioritized action plan for the firms' partners. He has done many keynotes and workshops for both PR firms and their clients, and for the communication departments of major corporations.
Media campaign support
Ross also works closely with many PR firms on creating compelling future-oriented content for client campaigns and working as a media spokesperson for promotional projects. See full details and extensive client case studies on Futurist services for PR.
Creating the Future of PR Framework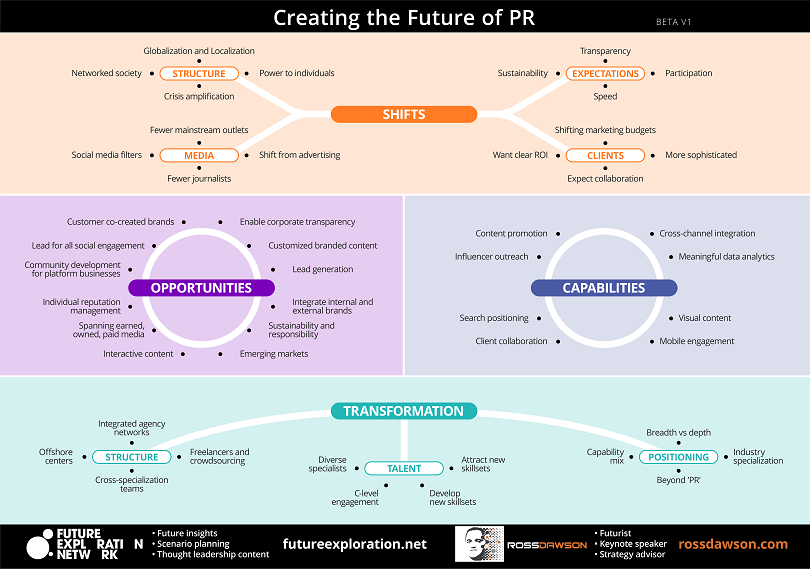 Click on the image above for a full size view of Ross Dawson's Creating the Future of PR Framework with explanation.
Tailored to meet your objectives
Every keynote speech by media futurist and keynote speaker Ross Dawson is fully customized to the client and the audience. Energize your event with a presentation by Dawson that will leave your audience inspired to embrace the future of media.
Contact

Contact the office of PR and marketing futurist and keynote speaker Ross Dawson to discuss the precise keynote or workshop topic that will best meet your requirements.

Keynote speaking topics

Read more examples of presentations that Dawson has delivered as a keynote speaker and can adapt to your specific needs.