Humans + AI resources > Humans + AI: Macro Workflow Roles
---
To tap the full potential of Humans + AI:
Check out Ross Dawson's Maven cohort course on AI-Enhanced Thinking and Decision-Making, starting December 5.

Join the Humans + AI Learning Community for collaborative learning, AI courses, member events, and more.
---
Humans + AI: Macro Workflow Roles
The major roles that Humans and AI play in high-value workflow.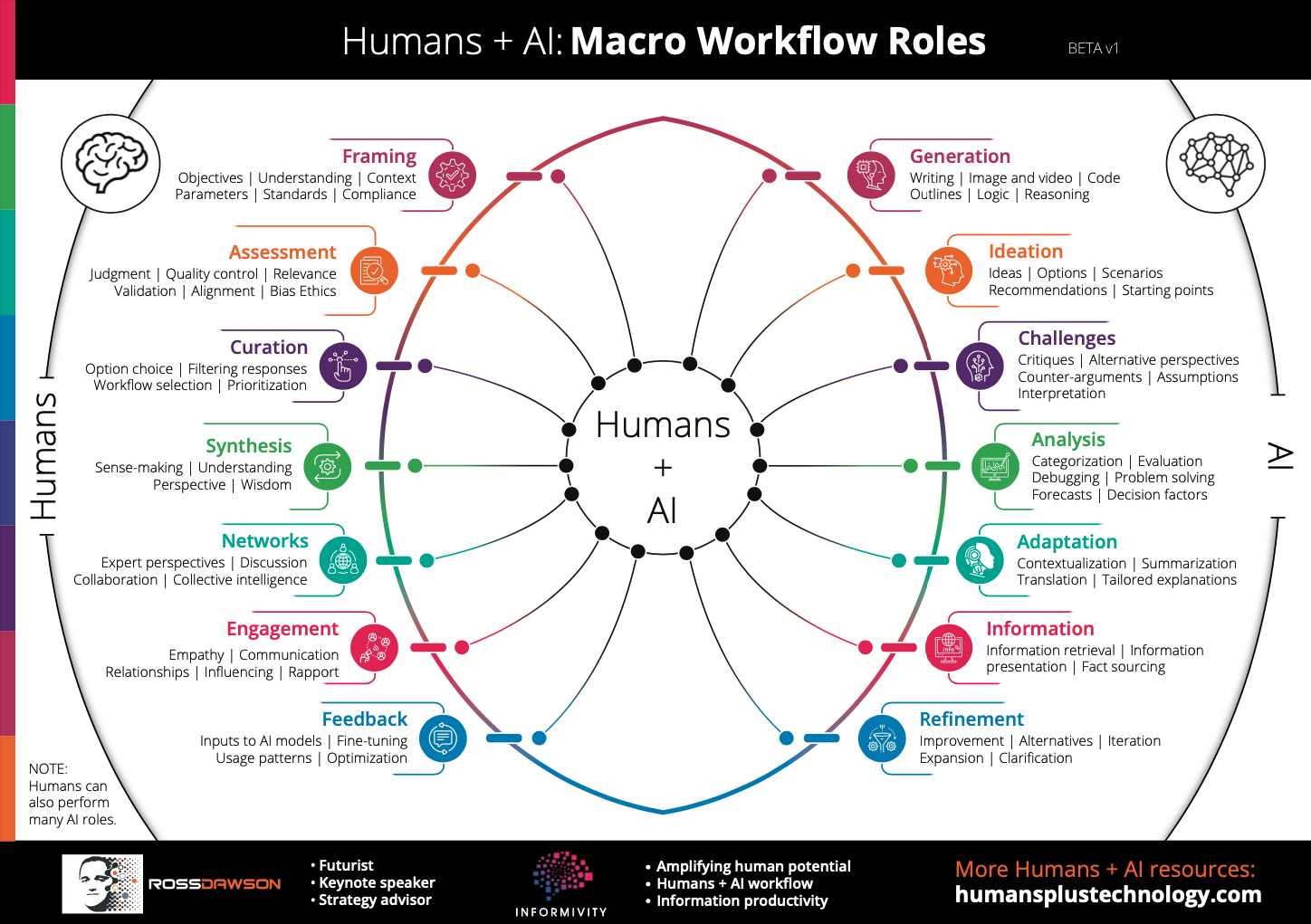 Click on the image for the full size pdf.
AI
Generation
Writing, Image and video creation, Code, Outlines, Logic, Reasoning
Ideation
Ideas, Options, Scenarios, Recommendations 
Challenges
Critiques, Alternative perspectives, Counter-arguments, Assumptions, Interpretation
Analysis
Categorization, Evaluation, Debugging, Problem solving, Forecasts, Decision factors
Adaptation
Contextualization, Summarization, Translation, Tailored explanations 
Information
Information retrieval, Information presentation, Fact sourcing
Refinement
Improvement, Alternatives, Iteration, Expansion, Clarification
Humans
Framing
Objectives, Understanding, Context, Parameters, Standards, Compliance
Assessment
Judgment, Quality control, Relevance, Validation, Alignment, Bias, Ethics
Curation
Option choice, Filtering responses, Workflow selection, Prioritization
Synthesis
Sense-making, Understanding, Perspective, Wisdom
Networks
Expert perspectives, discussion, collaboration, collective intelligence
Engagement
Empathy, Communication, Relationships, Influencing, Rapport
Feedback
Input to AI models, Fine-tuning, Usage patterns, Optimization