Futurist > Companies creating the future > 8 leading virtual firms shaping the future of professional services
8 leading virtual firms shaping the future of professional services

Bringing together a brains trust of experts with consultants looking to escape inflexible incumbent firms, virtual professional services companies are disrupting the sector by embracing new ways of working and identifying talent.
Emerging in a growing number of fields from traditional management consulting to specialist public relations, they offer clients on-demand insight at short notice, deliver value for money by eschewing shiny corporate headquarters and attract the best and brightest away from bigger firms in exchange for the ability to control their own destiny.
These 8 are leaders in their respective fields, all operating virtually and showing their larger competitors you can build highly effective teams across borders and keep clients happy using talent selected on skills over location.
Who is the innovator in your services field? Help us make this list comprehensive by getting in touch here.
Topcoder
Billing itself as "the operating system for talent", Topcoder was born of founder Jack Hughes's desire to apply the ranking method used in chess to rate software developers.
As we now know, the best chess in the world is played by humans and computers working together. Operating since 2001, Topcoder has built a community of the world's best coders, connecting on its digital platform to solve complex client problems, or simply write specific pieces of code.
Coders compete not only for prizes and kudos but to learn from others how and why a project succeeded or failed, and improve their own skills and processes.
Today, Topcoder secures and manages projects on behalf of clients, matched with members of its 1.5 million strong group of designers, developers and data scientists spanning 90 countries.
Topcoder was acquired by Indian multinational IT firm Wipro in 2016 as part of its US$500-million acquisition of former Topcoder parent company Appirio.
Eden McCallum
Born amid the dot-com boom in 2000, but still thriving today, management consulting firm Eden McCallum is the brainchild of ex-McKinsey partners Liann Eden and Dena McCallum.
Upending the 'all or nothing' life expected in the traditional management consulting industry, Eden McCallum unbundled the selling part from the actual work, and gave its freelance consultants the work flexibility they'd left the big firms for.
The group now has a pool of 2,300 independent consultants and continues to disrupt the big three management consulting firms. It paved the way for other professional services firms to innovate with their hiring and service delivery models.
Having lived through multiple periods of economic downturn and uncertainty, co-founder Eden says "being lean, efficient and agile and cost efficient and good value kind of makes sense regardless of what the environment is going to be".
10EQS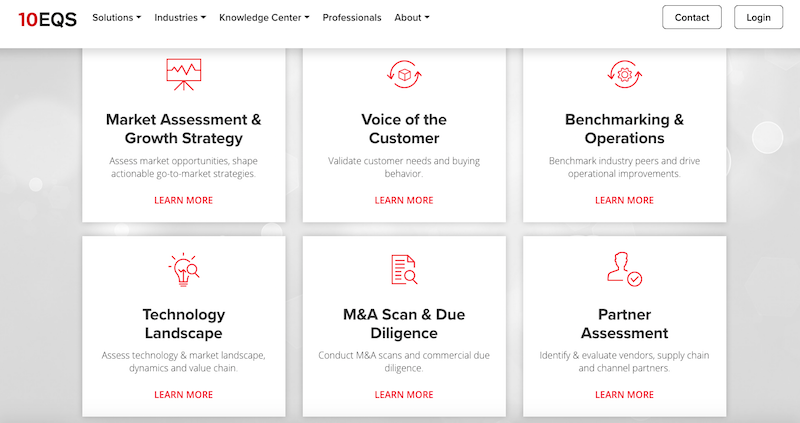 Founded by ex-McKinsey director Eberhard von Loehneysen in 2008, 10EQS now operates in eight locations around the world and appointed former Deloitte Global CEO Barry Salzburg as its chairman in 2019.
10EQS has successfully picked off some of the tasks performed by the big management consulting firm oligopoly – from go-to-market plans to super specialised technology trend assessments. The firm brings together its own ex-big firm consultants with leading experts from the field – whether it be in academia or working for government agencies or private firms.
In 2014, 10EQS partnered with Deloitte to help build Deloitte Pixel – a platform designed for clients looking to crowdsource solutions by tapping difficult-to-find expertise.
Wikistrat
Operating in the crowdsourced experts sector forged by 10EQS, Wikistrat taps the specialist expertise of hundreds of thousands of people worldwide to provide flexible, non-routine services such as consultancy, market intelligence, strategy development and research.
Many of the experts working with Wikistrat, which calls itself 'the world's first crowdsourced consultancy', have held interesting day jobs in government intelligence or research.
Founded in Israel in 2009 by Joel Zamel and Daniel Green, Wikistrat uses a simulation system where a client's problem is disseminated to various groups of consultants who compete against each other to find solutions.
CEO Oren Kesler says both governments and corporations "want to be innovative and more creative in how they interact with vendors".
Axiom Law
Axiom founder Mark Harris turned the very idea of a law firm on its head in 1999, killing the notion of the all-important 'partner', and building a firm that could bridge the divide between in-house and outside counsel.
Today Axiom has 5,800 lawyers spanning North America, the UK, Europe and APAC, and continues to innovate with offerings like its Axiom for Talent platform, dubbed 'the new LinkedIn' for lawyers.
The company wasn't so successful in the early years, however, as it struggled to convince clients of its non-traditional approach. A decision to specialise early on was what ultimately delivered profitability, and it remains agile in its approach.
Axiom scrapped plans to pursue a IPO in 2019, instead taking an equity investment from private equity firm Permira Funds.
The PR Network

Founded in London in 2005 as virtual from day one, The PR Network's more than 2,000 worldwide consultants now work across 60 countries, making it "the world's leading virtual PR agency".
Co-founders Nicky Regazzoni and George Blizzard met at a hen's night and formed a friendship before coming up with the idea of a new public relations agency designed as virtual from the ground up. At the time there were few options for PR workers looking for freelance flexibility.
Regazzoni says while initially there was some stigma attached to their model, people no longer buy an agency "because they have a nice office". Clients value their ability to manage both a complex global campaign, or a much smaller localised launch.
The network is organised into sector-specific teams with deep subject matter expertise and local media and influencer contacts, enabling it to be both widely distributed and hyperlocal.
Hoxby
Specialising in marketing, admin, HR, PR, innovation and creative, Hoxby was founded in the UK in 2015 and today works with more than 1,000 freelancers across 40 countries.
Founders Alex Hirst and Lizzie Penny bring freelancers together based on a shared workstyle as much as individual project needs. The name Hoxby stands for "happiness of others multiplied by the best of you", and the firm promotes a fundamental restructuring of work to "be judged on merit, accelerating both diversity and inclusion agendas and productivity through radical changes to move to more agile working structures".
Hoxby isn't concerned with the 'coat on the chair' approach of old – the longer you're there, the harder you're seen to be working. Instead, it heavily vetts the people it brings in up front to ensure they're a good fit for clients.
"Our people work when they feel most productive and trust they are measured on output and outcomes rather than the minutes they're at work," says Penny.
During the COVID lockdown in the UK Hoxby launched a campaign called #remoteagainstcoronavirus, to unite the broader remote working community to share advice, strategies, tools and experiences to aid the swift adoption of remote working by everyone.
The Difference Collective
https://thedifferencecollective.com/
Growth in virtual working has spawned hundreds of small, networked agencies, too many to include here, but The Difference Collective is proof the model works for niche services as well as more diverse offerings.
The collective is a healthcare communications agency with a virtual team of 100 consultants.
It was launched in the UK in 2017 by healthcare comms veteran Angie Wiles in response to her disappointment as seeing "talent lost to the industry due to inflexible and restrictive working policies".
"I became very conscious that the nature of work was changing and it was around the time people were making more requests for flexible working, but that wasn't being appreciated."
The business model allows clients to dial up or down the commitment, with no retainer commitment, "That's the beauty of a business built in a much more flexible and agile way."