Continuing our series of free chapters from Implementing Enterprise 2.0, here is Chapter 4 on Key Benefits and Risks. For full details on the report and all the sample chapters go to the Implementing Enterprise 2.0 website.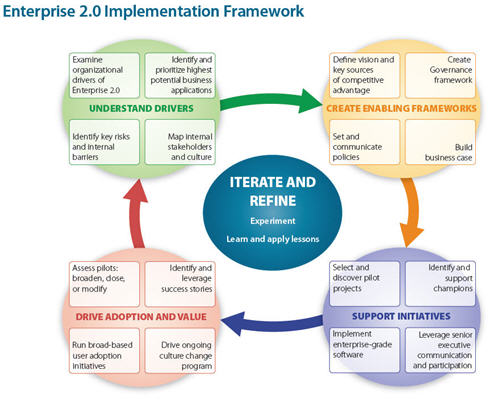 As shown in the Enterprise 2.0 Implementation Framework above, understanding the potential benefits and risks from Enterprise 2.0 that are relevant to the organization is critical to being able to engage in the cycle of value creation. These benefits and risks vary substantially across companies. Initiatives must be designed to draw out the greatest potential benefits, and fully address potentially risks and concerns. Chapter 7 on Governance, also available as a free download, examines how the understanding of the risks and benefits are applied in creating an enabling framework for the organization.
The Key Risks and Benefits chapter contains:
* Assessing the relevance of risks and benefits to your organization
* Table of key potential benefits of implementing Enterprise 2.0
* Table of key risks and concerns in implementing Enterprise 2.0
* Risks of NOT implementing Enterprise 2.0
You can also just download the pdf of Chapter 4.

Implementing Enteprise 2.0: Chapter 4 – Key Benefits and Risks
https://rossdawson.com/wp-content/uploads/2016/07/rdawson_1500x500_rgb-300x100.png
0
0
Ross Dawson
https://rossdawson.com/wp-content/uploads/2016/07/rdawson_1500x500_rgb-300x100.png
Ross Dawson
2009-03-25 14:52:06
2009-03-25 14:52:06
Implementing Enterprise 2.0: Free Chapter 4 – Key benefits and risks