I am running a two-day executive program on Relationship Management for Financial Services in Kuala Lumpur on 28-29 January, organized by IBN International. The workshop will be attended by executives from a variety of local and global financial institutions in South-East Asia.
Over the last few years I have spent less time on these issues as I've broadened my scope to look at the future of business, however much of my earlier career was in financial services, working at Merrill Lynch and Thomson Financial, and my focus was for a number of years on high-value client relationships, best expressed in my book Developing Knowledge-Based Client Relationships. As such , in the late 1990s and the first years of the following decade I did considerable work with major financial institutions on enhancing their client relationship capabilities.
Increasingly, the key client programs applied in corporate and insitutional banking and the CRM initiatives implemented in retail and private banking are coming together. The shift to online and data-driven relationships has facilitated that shift.
To help explain some of the key drivers of CRM programs from a "knowledge-based" perspective, I have created a Knowledge-Based CRM Framework which I will use in the executive program in KL. This will complement my existing content and frameworks on high-value relationships, which are summarized in Chapter 6 of Developing Knowledge-Based Client Relationships. Hopefully the framework below is largely self-explanatory, however I will try to find the time at a later stage to explain the framework in more detail.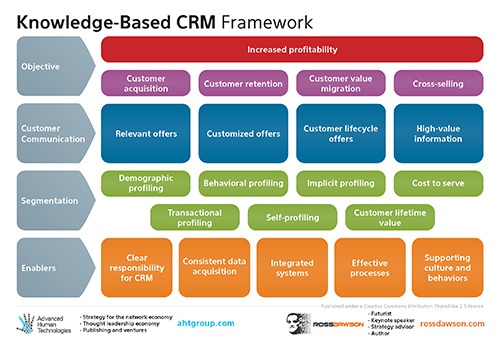 Click on the image to download Knowledge-based CRM Framework
https://rossdawson.com/wp-content/uploads/2016/07/rdawson_1500x500_rgb-300x100.png
0
0
Ross Dawson
https://rossdawson.com/wp-content/uploads/2016/07/rdawson_1500x500_rgb-300x100.png
Ross Dawson
2010-01-18 01:56:23
2010-01-18 01:56:23
Creating Knowledge-based CRM initiatives