I have just seen the video of Peter Weyland's speech at TED 2023, shown below. It is a superb piece, bringing together ideas, performance, and production to create a powerful impression in a few minutes.
I had to do some research to find what the speech is actually promoting. At the end of the movie the logo and website for Weyland Industries appears, which takes you to this website that showcases the speech.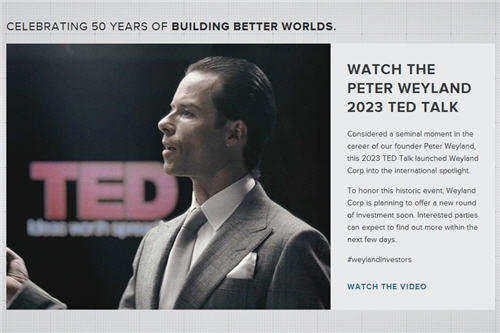 Searching for Weyland Industries yields the fact the video was created to promote the forthcoming film Prometheus, directed by Ridley Scott Walker, to mark 100 days until its release. This is, presumably, an excerpt from the film. The film website's plot page says helpfully that "little is known about Prometheus' plotline," though does provide some detail.
I for one will be seeing the film for sure. The promotional video makes me absolutely want to see the movie in which this is set. This is a fantastic example of online marketing, releasing great content and generating conversation and interest. It is of course easier to do this for a good film than other products, but it is still very well done.
In the clip the Weyland character says that we are becoming as gods, a topic I believe is real and important. As he says, we may soon not be able to tell the difference between humans and robots. The replicants of Blade Runner will be here, perhaps not too far into the future.
The small glimpse in the video suggests that the film will be entirely plausible. There is unimaginable potential before the human race. There is no question that a few powerful personalities will significantly shape our future. Immense hubris will no doubt be present.
I am sure that will be a central theme of the movie. I look forward to it.
https://rossdawson.com//wp-content/uploads/2016/07/rdawson_1500x500_rgb-300x100.png
0
0
Ross Dawson
https://rossdawson.com//wp-content/uploads/2016/07/rdawson_1500x500_rgb-300x100.png
Ross Dawson
2012-02-29 06:58:33
2012-02-29 06:58:33
A vision writ large: The future, personality, and hubris