Software firm Sysomos has provided some more interesting research on Twitter usage.
Using this data, we have analyzed which countries use Twitter the most on a per capita basis, shown below.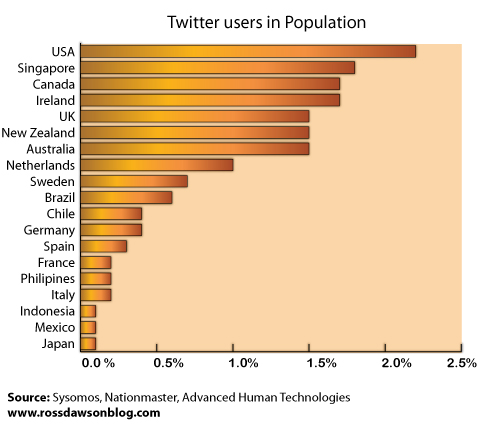 I did the same analysis from Sysomos' report in June, showing the most prominent Twitter nations on a per capita basis at the time, according to the data provided.
While the results are fairly consistent between the June 2009 and January 2010, it seems that neither set of results is complete. Norway, which ranked as the third highest per capita Twitter nation last June, had no data provided on it in this survey, while Singapore – now the second highest ranked nation – and Ireland – now ranked fourth – were not included in the June survey.
On a relative basis New Zealand has gained ground, catching up with Australia and the UK, while Germany appears to have moved ahead considerably compared to other countries such as France.
Sysomos doesn't give details on its "proprietary" methodology for identifying the location of Twitterers, however it very interestingly says that only 0.23% of tweets are tagged with location through Twitter's geo-location API tool. I may have a play with getting some of this data directly at some point.
https://rossdawson.com//wp-content/uploads/2016/07/rdawson_1500x500_rgb-300x100.png
0
0
Ross Dawson
https://rossdawson.com//wp-content/uploads/2016/07/rdawson_1500x500_rgb-300x100.png
Ross Dawson
2010-01-14 20:59:15
2010-01-14 20:59:15
Top Twitter nations: USA, Singapore, Canada, Ireland, UK, New Zealand, Australia