The Newspaper Extinction Timeline below was launched one year ago today. It received plenty of attention, getting published in newspapers and other mainstream media in over 30 countries, and being seen well over a million times.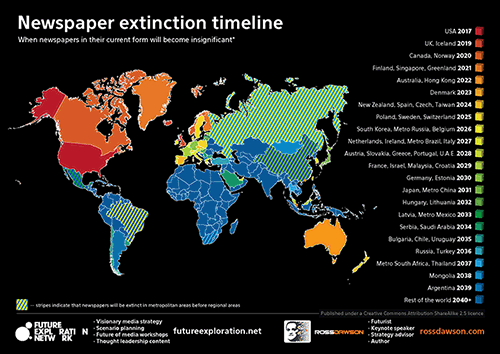 Click on image to download full framework
Today a commenter on the original post asked me if anything had happened over the last year to make me change my forecasts. The answer, in short, is no.
If you look at the broader factors that we used in assessing the underlying trends, as below, things have played out much as expected.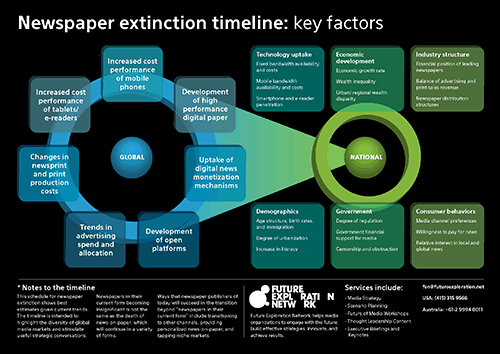 Click on image to download full framework
The prices and functionality of tablets, the deterioration of news-on-paper readership, and prices of print production have been largely in line with expectations. Arguably there has been a better-than-expected uptake of digital news monetization mechanisms by the readers of a handful of major newspapers, however that will not necessarily continue to support the production of news-on-paper, and it is likely there will be relatively few newspapers globally that can support paywalls.
We'll continue to track how well our expectations are panning out as time counts down on the forecasts.
What do you think? Given developments over the last year, are these predictions becoming more or less to be borne out?
https://rossdawson.com/wp-content/uploads/2016/07/rdawson_1500x500_rgb-300x100.png
0
0
Ross Dawson
https://rossdawson.com/wp-content/uploads/2016/07/rdawson_1500x500_rgb-300x100.png
Ross Dawson
2011-10-31 09:19:26
2011-10-31 09:19:26
Revisiting the Newspaper Extinction Timeline on its first anniversary